Our warmest wishes to His Majesty King Charles III
Jurga Zilinskiene MBE | Aug 15, 2023 10:57:39 AM
On behalf of everyone at Guildhawk and Evernoon 尚日(香港)we send our warmest wishes to his Majesty King Charles III.
May his reign be long and bring peace, unity, respect and renewal in these challenging times. Here in Hong Kong, you don't have to look far to experience the respect that so many hold for the Royal Family. This was in abundance at the British Consulate in Hong Kong on Saturday.
A big thank you to Brian Davidson CMG, British Consul General to Hong Kong and Macau for his kind invitation to attend the Consulate and enjoy the live streaming of the Coronation.

It was an honour to share this historic moment with so many inspirational guests from the community, charities, business and government.

Especially heart-warming to be in the company of three other ladies honoured by our late Queen Elizabeth for their special contribution to improve lives.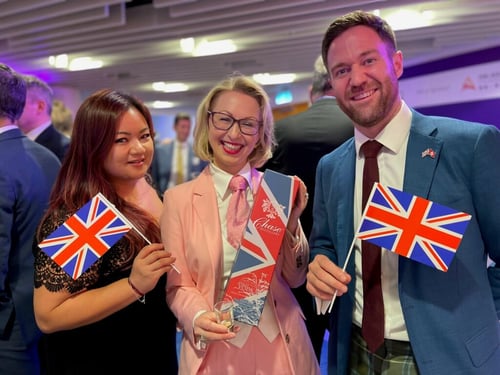 This was a celebration of diversity, community, sustainability and young people – the values cherished by His Majesty.
It was also a fun, quintessentially British reception showcasing amazing brands that are investing in both the UK and Hong Kong like Fortnum & Mason and CC Land.

Organising such an event is not easy and many congratulations to the organisers and sponsors who made the event so wonderful.
Read more about Guildhawk's royal appointment.
Philanthropist Johanna Arculli and her husband The Honourable Ronald Arculli GBM, CVO, GBS, OBE, JP, celebrating the Coronation of HM King Charles III